TikTok is a media app for creating and sharing short videos for up to one minute. This app was launched in 2017 by Bytedance, for markets outside of China (Douyin for the China market in September 2016). In 2018, after the merging of musical.ly, this application gained massive popularity and became the most downloaded app in the U.S. in October 2018.
How to get famous on TikTok?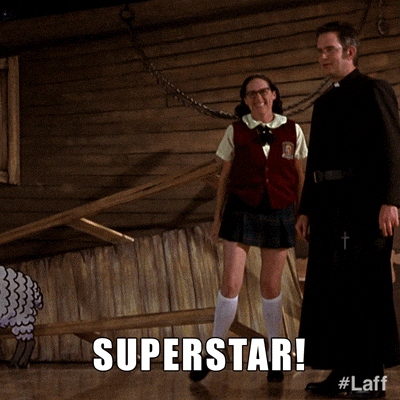 Everyone likes fame but all don't achieve it. Only those people get fame and become a celebrity/ influencer who work hard to achieve it.
After carefully analyzing the top influencers, I have compiled this list. Follow these rules, you will be an influencer one day.
1.Optimize your profile
a. Make your profile picture stand out
When a person watches your video for the first time and he liked it, there are many chances that he will swipe to see your profile. After swiping, the first thing he notices is your profile picture. First impression is the last impression. Upload a profile picture that is attractive and grabs the user's attention. You can edit your pictures through any photo editing app like Picsart, Snapseed, and others.
Tip:
Cartoon or Sketch profile picture is trending nowadays. Get yours too from Fiverr.
b. Write Amazing bio
After first glance on the profile picture, people check the account's bio. Craft yourself in the best manner in the bio section and if you are active on Likee App, add your username too (Likee: username).
Use Grammarly, free grammar and spelling checker to avoid mistakes while writing any content.
Last but not least, don't forget to add a YouTube and Instagram link to your profile.
Tip: Don't depend on one platform. A recent example is Mr_faisu_007, an Indian TikToker who has more than 20M followers on TikTok but his account is suspended now. He is uploading content on Instagram now which he grew up to 7M followers through TikTok.
You can read this blog post for optimizing your account even further and switch to a pro account for free.
2. Pick a niche
Some people love dance whereas others love cooking. If you love both, create two accounts instead of one and post relevant content there. People follow accounts that post specific niche content instead of mixed content. Most popular niches on TikTok are Dance, Humor, lip-syncing videos, Cooking, Art and crafts, etc.
3. Post more content
There is a never-ending debate between posting high-quality content a few times or quality content regularly. I don't know which side you support but posting more content is always a winner (almost every time).
Posting more content gives you more exposure and chances of creating a viral video are a lot more than others.
4. Create Out-Of-The-Box Stuff
Be creative and create original content. Although original content requires more hard work, it pays off too. Creating original content in starting days is difficult but you can overcome this hurdle by practice.
Make a habit of creating five scripts for your videos daily and choose the best ones for video creation. Within a month, your brain will be habitual of thinking out of the box.
5. Participate in challenges
Accept challenges and keep an eye on new challenges so you can follow them before others. Early videos on any challenge get maximum traction as compared to following after it is accepted by millions. Create the best content and use relevant hashtags in your posts.
Kiki challenge was one of the most popular challenges. Nowadays, #bottlecapchallenge is becoming immensely popular.
6. Use Hashtags
Nowadays hashtags are the spine of any social media content. Platforms use them to categorize content so don't forget to add them to your videos. Add 2-3 hashtags in each video. Don't use the same hashtags again and again. Sometimes use hashtags that are less popular.
TikTok doesn't support following specific hashtags. It might add this feature in the future. Creating content using hashtags will increase your fan base surely.
7. Be Consistent
People posting regularly on social media have more followers. Create a specific schedule and post regularly. Create a specific posting schedule, 8 videos a week. Don't upload all videos in one day. Post one or two daily.
Sometimes you visit a good place or attend a local event and create many videos. Don't upload all of them at once rather upload them in 2-3 days.
8. Add a "Female" Element in your videos
Videos having 2 individuals perform much better than individual videos. If you are a male, topping your videos with a "female" element can increase your followers rapidly. Just like "Redbull gives you wings", girl gives wings to your account. This girl can be your sister, girlfriend or fiancee. Make videos with her. If you disagree, make some videos with girls and check the difference.
9. Recreate popular videos
Some videos become immensely popular, don't waste this opportunity and make similar videos or troll these videos with your remake or positive criticism.
10. Best soundtracks
"Where words fail, music speaks. " — Hans Christian Andersen
Music adds soul to video. Instead of creating extraordinary Visual content alone, pay attention to picking soundtrack too.
Many average videos are becoming popular due to the soundtrack. A recent example is Thomas Shelby's viral soundtrack.
11. High-quality videos
You can improve your video quality by three ways.
Using the best equipment. Use high-quality cameras, lighting equipment to make high-quality videos.
Doing best video editing. Always follow video editing trends. Use editing apps to create engaging videos. Some of the best video editing apps are InShot, Timbre, Funimate, Vizmato. Neon editing is trending nowadays. You can also outsource it from freelancers on Fiverr starting from 5$.
Dress up and always capture at best places.
12. Don't turn off comments
Abusive comments are common on TikTok. If you are living in a religious country, posting bikini or inappropriate videos can result in many abusive comments.
According to TikTok's algorithm, videos having many comments get a boost on TikTok and it results in more views, likes, and followers eventually.
If abusive comments really hurt your feelings, turn off comments otherwise allow haters to bark.
13. Engage with viewers
An influencer is nothing without followers/fans so always interact with them. You can interact with them by replying to their comments.
You can take it to the next level by making a habit of commenting on their content.
14. Hijack attention from other's videos
In starting days, growth is slow. You can boost your growth by adding comments on other creator's videos. Just follow two rules while adding comments.
Comment on viral videos or creators having a huge following.
Write eye-catching and relevant comments. (Don't beg for following me)
15. Cross-Promote your videos
The only way to increase the follower's base without creating additional content is cross-promoting. Cross-promote your videos. Creating content requires much hard work so upload your content on all social platforms. Upload it as Instagram's story, post it on Facebook, Twitter and so on.
Some TikTokers even repurpose their old content by uploading their previous hit videos on TikTok again. You can do it too.
16. Collaborate with others
Collaboration is a win-win situation for all. Its a mutual way of promoting each other. Always collaborate with people having the same niche. Whether you have 100 or 100K followers, collaborate with others. Ask people to collaborate who have similar followers range. Don't ask the person with 10k followers to collaborate if you have 100.
For example, Sunny Leone, a hot Bollywood actress, collaborates with Awez Darbar, a famous Indian TikToker having 15M+ followers.
17. Create positive content
Positive content always brings marvelous results. Some people utilize it beautifully to boost their engagement.
You can create awareness about any topic from environment protection to support any NGO regardless of your niche. Positive vibes are always admired by anyone.
18. Flow with trends
Always keep an eagle eye on what's trending now. Immediately make content about it. It may be a trending song/ music, hashtags challenge, video acting, mimicry.
Tip: keep an eye on YouTube trending section to get ideas of trending music/video. Twitter hashtags can also help you.
19. Ask for feedback
A person can improve only when he knows where he/she lacks. Best way to know your deficits is asking for feedback. Ask your followers about your lackings and how you can improve them.
After getting feedback, appreciate good suggestions and work on them too.
20. Go Live
Keep in touch with your audience and the best way to do so is by going live. Go live very often and chat with your followers.
When you go live, TikTok notifies your followers and it increases user's engagement in your videos.
21. Attend local TikTok events
Some followers are obsessed with creating videos with you, fulfill their desires by making a video with them. These crazy fans upload content featuring you and do mouth marketing too. In the end, it showcases you in front of a new audience.
22. Diversify your content
Here diversifying does not mean that you create videos outside of your niche. Diversification means you just don't stick to lip-syncing videos only. You can dance, add your own soundtrack.